Community Festivals and Street Carnivals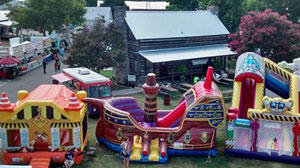 Planning a Comunity Event or Festival can be a daunting task, to say the least, the less you have to worry about, the better. There are many options when organizing your Event with

Big Thunder Events

, You can rent and staff the equipment yourself, or we can discuss a pay-to-play event where the event receives a percentage of the proceeds.

A variety of unique and eye-popping equipment is important for the success of any Festival or Kid's Zone, and we have the most amazing equipment in Middle Tennessee.

Big Thunder Events

has been conducting events all over Middle Tennessee since 2005, which equals thousands and thousands of smiling faces. Let

Big Thunder Events

help you take your Festival to the next level.