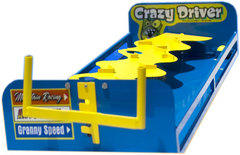 Crazy Driver
$40.00
Dimensions: 4Lx2Wx1.5H
Set Up Area:
Outlets:
Crazy Driver Carnival Game !
Crazy Driver is a game of skill. The objective is to drive the ball all of the way down to the finish line without falling into a pothole or running off of the road. Crazy Driver is a table top game.