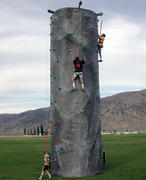 ROCK CLIMBING WALL
$848.00
Please call to reserve this item.
24 FOOT ROCK CLIMBING WAL
We are proud to offer this amazing 24 foot rock climbing wall in Nashville Tn. Three climbers at a time can challenge themselves to get to the top. This Rock Climbing Wall is available fully staffed for $848 for the first 4 hours and each additional hour is only $175.